Friday, Oct. 6th, 2017 (6pm-10pm) & Saturday, Oct. 7th 2017 (11am – 5pm)
Time to Celebrate and Eat Shrimp! As Pvt. Benjamin Buford 'Bubba' Blue from Forrest Gump says,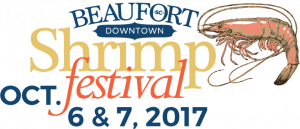 There's pineapple shrimp, lemon shrimp, coconut shrimp, pepper shrimp, shrimp soup, shrimp stew, shrimp salad, shrimp and potatoes, shrimp burger, shrimp sandwich. That- that's about it."
Entry is free! Happening at the Henry C. Chambers Waterfront Park and brought to you by Main Street Beaufort, USA, in downtown Beaufort. Up to 15 local restaurants will be featuring their best shrimp dishes and competing for the Silver Cup award. Purchase tickets for $1 each and use them at food & beverage booths. Items usually cost 2-8 tickets. Don't forget to vote for your favorite restaurant in the People's Choice Award, compete in the Shrimp Heading or Shrimp Peeling (for children) competition, and adopt a Shrimp in Sea Island Rotary's Charity Rubber Shrimp Race.