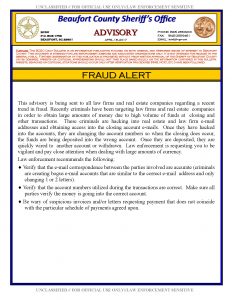 This advisory is being sent to all law firms and real estate companies regarding a recent trend in fraud:
Recently criminals have been targeting law firms and real estate companies in order to obtain large amounts of money due to high volume of funds at closing and other transactions.
These criminals are hacking into real estate and law firm e-mail addresses and obtaining access into the closing account e-mails. Once they have hacked into the accounts, they are changing the account numbers so when the closing does occur, the funds are being deposited into the wrong account. Once they are deposited, they are quickly wired to another account or withdrawn.
Law enforcement is requesting you to be vigilant and pay close attention when dealing with large amounts of currency.
Law enforcement recommends the following:
Verify that the e-mail correspondence between the parties involved are accurate (criminals are creating bogus e-mail accounts that are similar to the correct e-mail address and only changing 1 or 2 letters).
Verify that the account numbers utilized during the transactions are correct. Make sure all parties verify the money is going into the correct account.
Be wary of suspicious invoices and/or letters requesting payment that does not coincide
with the particular schedule of payments agreed upon.
For mor information, visit the Beaufort Count Sheriff's Office website at http://www.bcso.net/index.php