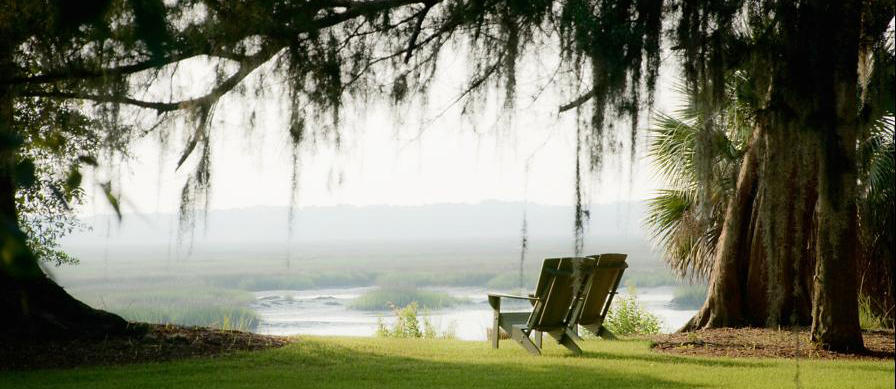 Bluffton originally only encompassed one square mile and received its name from the town's location which was perched up on a bluff overlooking the May River. Today, Bluffton is a burgeoning and expanding town that has much to offer residents and visitors alike. The fastest growing town in Beaufort County, this quaint Lowcountry town is quickly becoming one of the most desirable areas to live in the southeast.
Despite annexing four large tracts of land, adding 32,000 acres to accommodate new residential and commercial development, Bluffton retains its quaint small-town charm. The town boasts a one-square mile National Historic District containing eight antebellum buildings (constructed prior to the Civil War), including the renovated Heyward House, which now serves as a welcoming center for the town.
With careful planning, new neighborhood developments such as Belfair Plantation, Berkley Hall, Colleton River, Hampton Hall and Hampton Lake, Moss Creek Rose Hill, The Crescent, Eagle's Point, Pine Crest, and Palmetto Bluff Plantations provide resi-dential homes, along with amenities and services to accommodate newcomers to Bluff-ton. These new and wonderful developments hold fast to preserving the sense that Bluffton is the standard for wholesome, small-town America.
Golf is as much a part of Bluffton as it is on Hilton Head. With both public and private venues, the avid golfer stands an excellent likelihood of getting choice tee-time at one of the many courses available in Bluffton. In addition to golf, Bluffton communities offer in-credible amenities including tennis clubs, equestrian centers, walking and biking trails, and waterfront river access for boating and fishing.
Shopping opportunities are plentiful with outlet, boutique, and antique shops from which to choose. Dining is also a treat as Bluffton not only has a variety of restaurants of its own but also because of its close proximity to Hilton Head Island, Beaufort, Savannah, and Charleston. There are quite a few events throughout the year, such as festivals, pa-rades, concerts, and farmers' markets, all of which continue to support building a sense of community amongst Bluffton residents.
For more information on Bluffton homes for sale, contact Hilton Head Island Real Estate Brokers, Inc. We have helped many South Carolina homeowners buy and sell homes in Bluffton and have full access and information for all real estate listings in Bluffton. Call 843-785-8006 today to get started. We can help you find your perfect place in Bluffton, South Carolina!